An overview of national and international publications on Regts - Delft Tiles and our activities.
---
Entrepeneur Symposium, 22th of September 2022 (video - subtitled)
Regts - Delft Tiles is one of the three 'stars' of the municipality Waadhoeke in 2022! To get more familiar with the firm, Roelof Lousma visited their gallery in the Dutch city of Franeker. He asks Durk Regts everything about their work, history and future.
---
Financial Times, 22th of January 2021
In Edward Hall's returning column on interiors he discussed several different type of tiles to use for his fireplace, including Delft tiles offered by our company.
Dit bericht bekijken op Instagram
---
Financial Times, 10th of October 2020
A wonderful article on the rise of antique Delft tiles within the world of interior design with quotes from our owner Durk Regts.
Dit bericht bekijken op Instagram
---
Homes & Antiques, April 2020
A lovely article on the history of Delft tiles and what still makes them a Design Icon after 400 years.
---
VIND Magazine, March 2020
VIND is the leading Dutch magazine on art, antiques and culture. In the latest edition an in-depth article on a very rare Delft tile mural from our collection was published.
---
Period Living, February 2020
www.myfavouritemagazines.co.uk/plfebs20

A short guide in the latest edition of Period Living on collecting antique Delft tiles and which details are important to pay attention to when buying them.
Dit bericht bekijken op Instagram
---
Homes & Antiques, October 2019
We are happy that we were able to contribute to this moodboard by providing three 17th century Delft tiles in blue and white. Credits go to Jaine Bevan (stylist) and Phil Sowels (photographer).
Dit bericht bekijken op Instagram
Homes & Antiques, April 2019
Tips by Durk Regts on how to buy antique and salvaged tiles.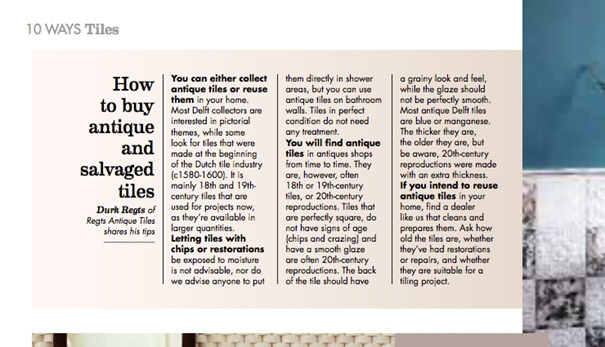 ---
Omrop Fryslân, 28th of December 2016
A live report on radio and TV by local news station 'Omrop 'Fryslân' regarding our sales exhibition of antique Delft tiles and related earthenware.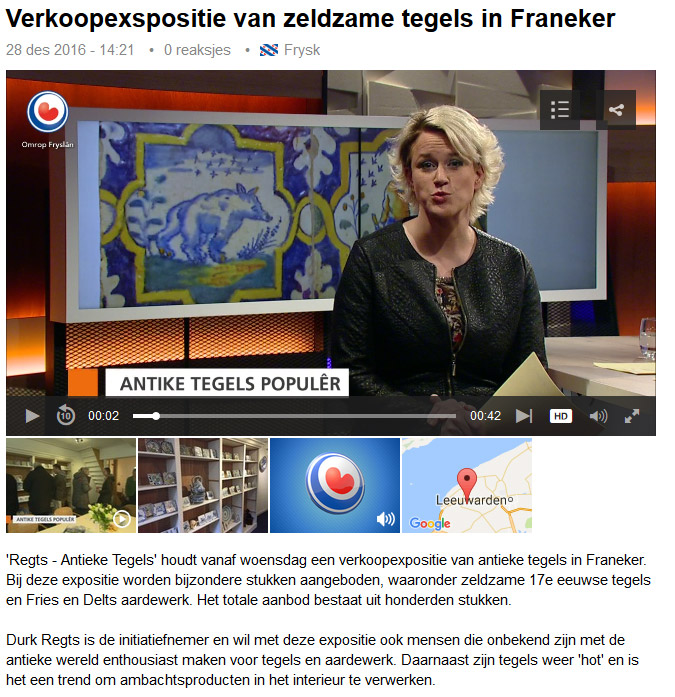 ---
Friesch Dagblad, 10th of December 2016
An interview with Durk Regts on his career switch and the future of antique Delft tiles. Written in Dutch.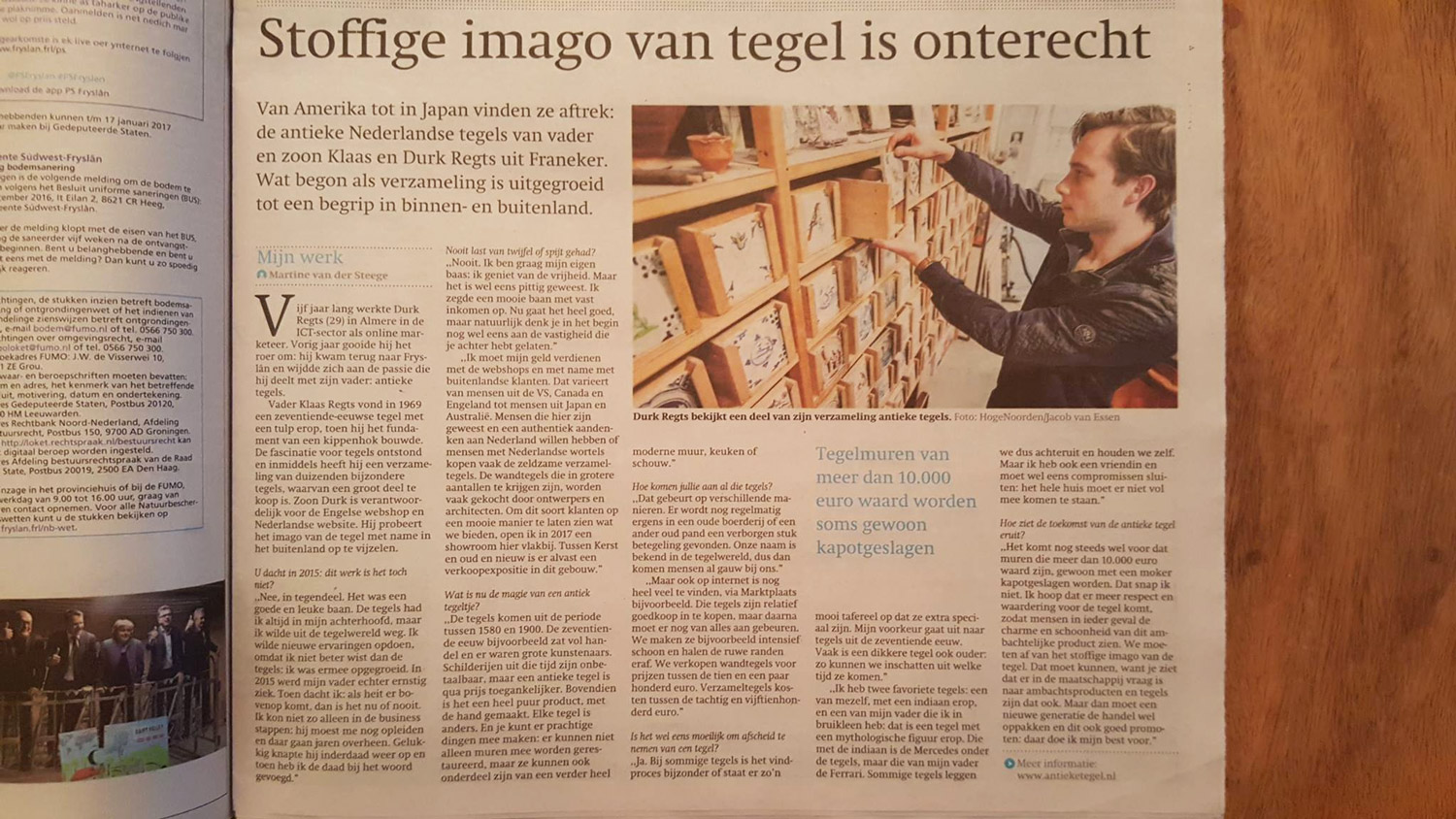 ---
Homes & Antiques, October 2016
One of our tiles is featured in the October edition of magazine 'Homes & Antiques' as one of the '100 most desirable antiques of all time'!
---
RECLAIM Magazine, October 2016
A lovely feature on our Antique Delft tiles and an interview with Durk Regts, the owner of Regts - Antique Tiles.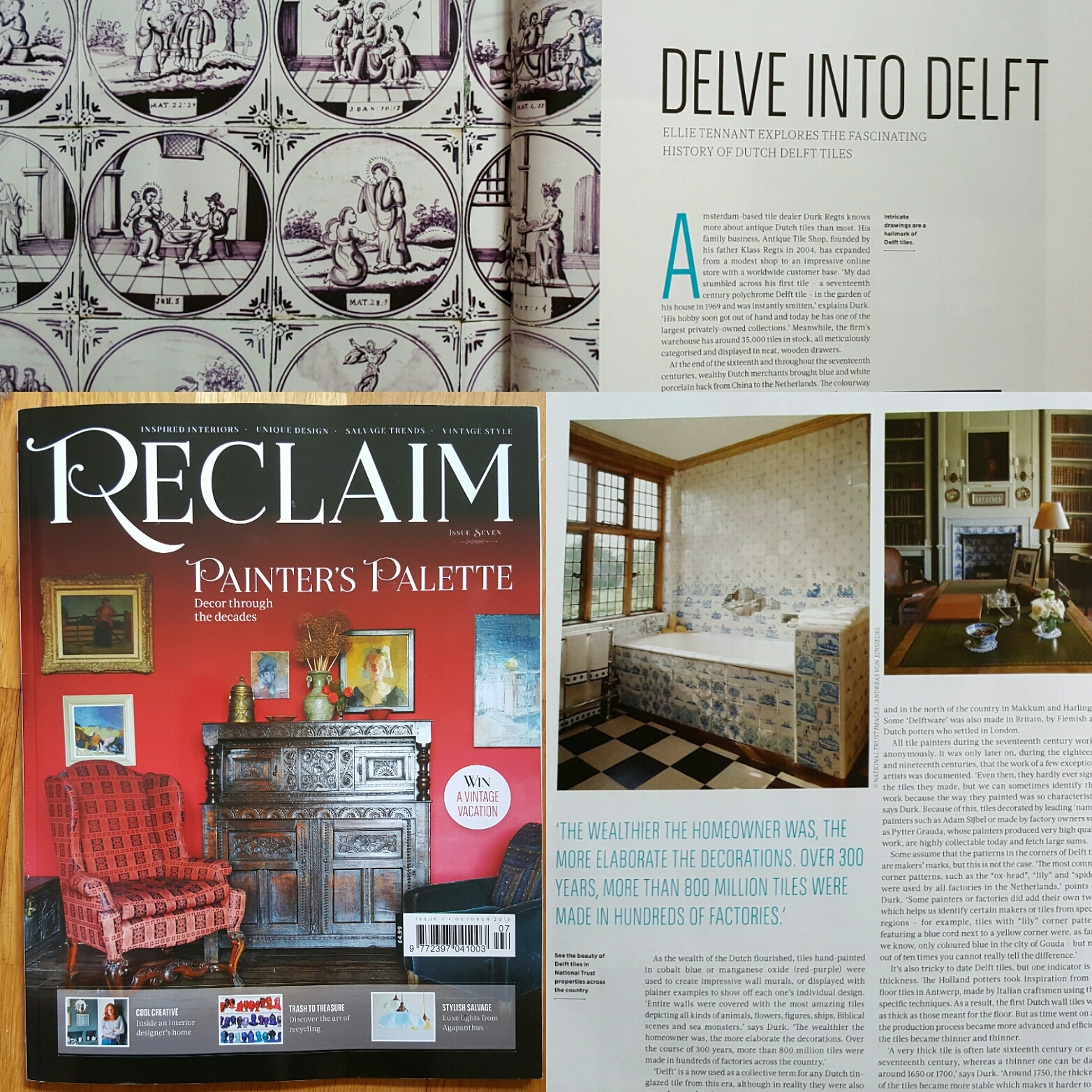 ---
Bynt, 31st of May 2016
On the 31st of May 2016 Klaas and Durk Regts - father and son) appeared on 'Bynt', a talk show of 'Omrop Fryslan' in the Netherlands. The spoken language is Frisian, which unfortunately makes it hard for our international visitors to understand the conversation, but as the clip also shows our warehouse and how we work we nevertheless wanted to share it with you! We hope to add subtitles in the near future.