Overview
These Delft wall tiles date from around 1760 and were made in the Dutch city of Rotterdam. It is a one of a kind type of which we have a significant quantity in stock which were all found on one wall in the Dutch city of Goes. The tiles are decorated with 'spider' corner motifs and depict all kind of well-painted landscape scenes, including animals, buildings and sailing boats. The tiles come completely prepared to be reused for tiling projects.
Visit our 'Projects' and 'Scrapbook' for more inspiration!
Specifications
Specifications

| | |
| --- | --- |
| Inventory number | WTS 102 |
| Quantity indication (pcs) | 150+ |
| Size per tile (approx.) | 5.1" by 5.1" or 13 by 13 cm |
| Period | 1760-1780 |
| Century | 18th century |
| Production area (city) | Rotterdam |
| Country | Netherlands |
Buyers information
How to order

Collectibles, books and sample packages of our reproduction tiles can be ordered directly on our website by clicking the 'buy now' button. Our secure checkout processes most credit cards, PayPal, iDeal and several other payment methods. In general these type of orders are shipped the next working day. As soon as they do, you will receive all the details from us to track the progress they are making.

Wall tiles, murals and reproductions can be ordered by making a quote request or by contacting us through our contact page. We will discuss all the details with you and move forward from there.

Shipping and packing

We ship solely with premium partners such as DHL Express and FedEx Economy/Priority. Based on the delivery address, value and weight of the shipment we choose the right carrier to work with. Each shipment is fully insured and prepared with all the required documents to pass customs when ordering from outside the European Union. All our tiles are extremely well packed. We use heavy-duty cardboard boxes for small orders. Larger others are packed in wooden export crates with multiple layers of protective foam.

Product disclaimer

Antique tiles
Antique tiles are handmade, so variations in color, size and texture are to be expected. Also, due to the age of the items, small chips and signs of use are common and considered to be part of antique tiles and the overall experience. Our tiles have been rinsed and cleaned intensely, making them suitable to be reused. However, we can never guarantee that all traces of sooth, salt or other forms of pollution have completely been extracted from the tiles. We expect our customers to be aware of this matter.

Color accuracy
Due to the relative inconsistencies of various display monitors, the colors you see on your screen may not be a totally accurate reproduction of the actual product. We strive to make our colors as accurate as possible, but screen images are intended as a guide only and should not be regarded as absolutely correct.

Information on this website
All information on this website is meant for personal usage. No right or claims can be derived from the information on this website. All modifications, changes and typing errors reserved. We do our utmost to make the information on this website as accurate and complete as possible. 'Regts - Delft Tiles' does not accept any responsibility for damage in whatever form for using this website or for the incompleteness or inaccuracy of the information on this website.
Make sure to read the full disclaimer by clicking here.
About Regts - Delft Tiles
We are a family firm specialized in Delft tiles. Our stock covers the entire production period, which started around 1570 and ended just after 1900. If you are interested in working with us, please always feel free to get in touch.About usContact us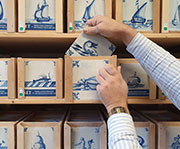 We found other products you might like!